Click to access our Facebook Page
Palm Sunday – 9:00am
Monday of Holy Week – 9:00am
Tuesday of Holy Week – 9:00am
Wednesday of Holy Week – 9:00am, Stations of the Cross 6:00pm
Holy Thursday – Mass of the Lord's Supper – 6:00pm
Good Friday – Stations of the Cross – 12:00pm,  Passion Service – 6:00pm
Holy Saturday – Easter Vigil – 9:00pm
Easter Sunday – 9:00am
Celebrate Mass with us Via Facebook and YouTube
Mass at St. Michael's will be live-streamed daily at 9:00am on our Facebook page.  You can find us HERE.  Please do not come to church during this time.  Please join the Parish family, along with the Communion of Saints as we celebrate a Spiritual Communion.
If you are not a Facebook member and wish to celebrate Mass with us, you can see the broadcast on our YouTube page.  Unfortunately we don't have to ability to live-stream the Mass yet, but it will be uploaded as soon as possible each day.  Click HERE for the link to our YouTube page.
Pope Francis Gives Rare 'Urbi et Orbi' Blessing Amid Coronavirus Pandemic
USCCB Responds to Coronavirus
Archbishop Jose H. Gomez of Los Angeles, president of the U.S. Conference of Catholic Bishops, has issued the following regarding Coronavirus (COVID-19):
With the worldwide outbreak of the coronavirus, we are confronted once more with the fragility of our lives, and again we are reminded of our common humanity; that the peoples of this world are our brothers and sisters, that we are all one family under God.
God does not abandon us, he goes with us even now in this time of trial and testing. In this moment, it is important for us to anchor our hearts in the hope that we have in Jesus Christ. Now is the time to intensify our prayers and sacrifices for the love of God and the love of our neighbor. Let us draw closer to one another in our love for him, and rediscover the things that truly matter in our lives.
United with our Holy Father Pope Francis, let us pray in solidarity for our brothers and sisters here and around the world who are sick. Let us pray for those who have lost loved ones to this virus. May God console them and grant them peace.
We pray also for doctors, nurses, and caregivers, for public health officials and all civic leaders. May God grant them courage and prudence as they seek to respond to this emergency with compassion and in service to the common good.
In this time of need, I invite all the faithful to seek together the maternal intercession of Our Lady of Guadalupe, and I share this prayer with you:
Holy Virgin of Guadalupe, Queen of the Angels and Mother of the Americas.
We fly to you today as your beloved children.
We ask you to intercede for us with your Son, as you did at the wedding in Cana
Knights of Columbus willing to help!
Council #4602 will run ERRANDS (groceries, medication and post office pickups, etc.) for those who can't venture out. Call Ken Maleski at 814-758-5377.
All public gatherings and events at St. Michael the Archangel are suspended until further notice.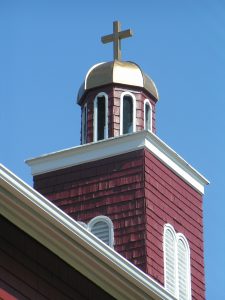 Church Open for Private Prayer

St. Michael the Archangel will be open daily seven days a week between the hours of 12pm and 4pm for private prayer and devotion. Should you choose to come to pray, please use precaution and practice the distance and washing protocols.
Sacrament of Reconciliation

Due to the unique time in which we find ourselves, Father Johnathan will be available full time in the rectory. Father will make Confession available between the hours of 12pm and 4pm daily. Please go to the rectory, ring the bell and Father will hear your confession in the area set up on the front porch for Reconciliation. If you are unable to come to the rectory, please call Fr. Johnathan
Faith Formation Religious Education Information
To continue our Faith Formation during this time, our Catechists have put together a family learning plan for the time we will be out of class. Please click on your child's Catechist's name for their assignment.
Adult/Family Faith Formation
Add our website to your Android or Apple device home page.
In your web browser click on the menu icon.  [Google: 3 vertical dots in the upper right corner of the web browser.  Apple: square at bottom of web browser.]
Scroll through to find the "Add to Home Screen" option.  [Sometimes listed as "Create Shortcut" under "More Tools…" option.]
Our logo will appear as a short cut on your home screen.